SUPERIOR - Low-floor Tram
BASIC INFORMATION REFERRING TO THE SINGLE-ENDED CAR DESIGN:
Power system
600 V DC (750 V DC)
Traction motor output
8 by 70 kW
Bogie distance
9 875/5 210 mm
Car height with pantograph down
3 460 mm
Pantograph operating range above top of rail
3 600-6 100 mm
Floor height above top of rail
350-595 mm
Wheel diameter max./min.
610/530 mm
Minimum track curve radius
Vehicle dead weight
42 000 kg ±5%
5 persons per SQ. meter
230 passengers
8 persons per SQ. meter
324 passengers
Note: track gauge - alternatively
1 000 mm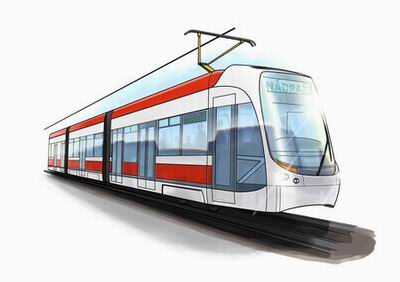 SAFETY ELEMENTS FOR CITY TRAFFIC
INEKON 04 - SUPERIOR tram is a modern vehicle even when it comes to safety. The front parts of the tram are made so that to be easily replaceable and they are also resistant to collision. The shock can be caused either by another tram or by a class B car. In the process of designing the car underfarame and side walls, the protection of passengers against side impacts has been taken into consideration too.
The tram is based on the low-floor modular construction concept. If required, it enables to build the tram as a bi-directional (double-ended) vehicle.